Metronome to the Dome Week 6
In our last weekly update for Metronome to the Dome, we're earned a total of $20.96 over month and a half. Our realized APR for the time period is 36.3%! Rates have spiked during this process and our leverage is now providing approximately 60% APR. Wow.
Most of the yield is coming from Fraxlend, where rates are sky high right now for CRV and a few other pairs. Make sure to check out our previous weekly updates to learn more about Metronome's Smart Farming.
This Time its Different
New Paradigms. New Beginnings. We are so back.
Does Frax Need a New, Simplified Website?
This week Wajahat posted a lengthy Twitter post calling for the creation of a simplified UI/X for Frax. He writes:
FRAX can become a multi billion dollar stable coin. Here is an idea I have to help it grow
Remember the days of Anchor Protocol? One of its key success reasons for me was just how simple and easy it was to deposit and earn. UI/UX is key reason for this, everyone loved it.
Now that we have a good functioning product. Frax can gain dominance with a simple but game changing upgrade to bring FRAX to the masses.
My proposal is to:
1. Create a clean UI/UX interface for both sFRAX and sfrxETH, the idea is a simple dashboard, earn, borrow and stake page. Keep it minimal, perhaps with even less going on the designs I made below.
The simpler, the better imo.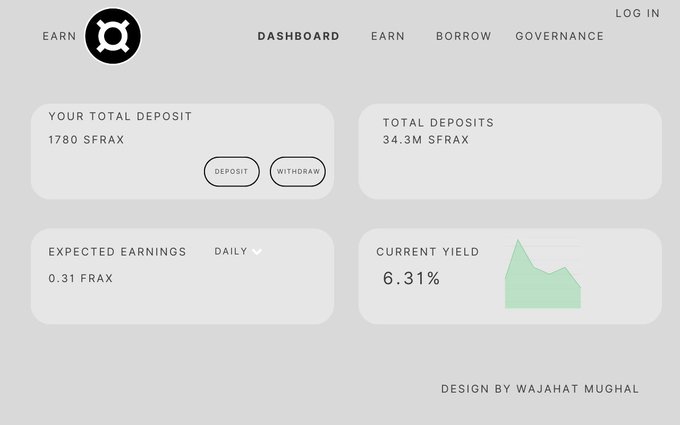 2. Create a new front end that allows 'log in with email/Facebook/X' using smart contract wallet tech like we've seen some new apps take on.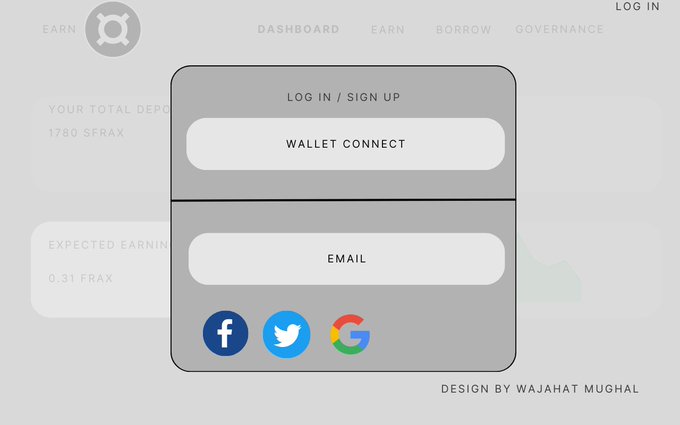 3. Create a function that lets users deposit any stable on any main chain where it gets converted into sFRAX via aggregators/fraxswap.
The same could be said with ETH or any LSD being converted directly to frxETH/sfrxETH.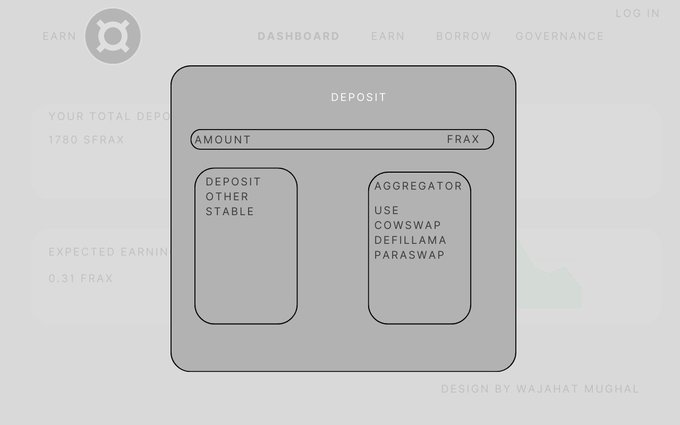 I genuinely think making small changes like these can attract the masses when it comes to using crypto and accessing products like sFRAX and sfrxETH.
I have created a governance proposal on the frax forum to discuss this further and think about the ways we can improve the UI/UX to make using all frax products easier and more efficient as a whole!

Apologies for my terrible designs, you can tell I didn't do well in art at school. Just wanted to get the points across.
After discussing it on Telegram, Wajahat opened a new discussion on the forums. He needs a front end designer to build this. Please comment and reach out to him if you can help build this new simplified site.
Axelar Proposes Bridging Services for Smaller L2's
Axelar and the Core Team proposed to adopt Axelar network's representation of Frax Finance tokens on chains where a dedicated Frax Ferry is unavailable. This adoption will enable the seamless transfer of Frax Finance tokens between supported chains.
Frax Ferry is a time consuming process to operate and on smaller L2s with less volume and TVL, it doesn't make economic sense to deploy. This is why this FIP was proposed. It will help create Frax demand on L2s, while offloading the responsibility for issuing onto Axelar.
Voting for the proposal is currently ongoing.
List of Chains
Osmosis
Mantle
Linea
Kujira
Manta
Scroll
Other Governance Issues
Ramses is a highly efficient DEX on Arbitrum that has been consistently achieving outstanding volume to TVL ratios across a wide variety of pairs in our Concentrated Liquidity pools. FRAX and RAMSES have already established a partnership that sees FRAX control approximately 5M veRAM (1.35% of the total) demonstrating the significant influence that FRAX already exerts within the RAMSES ecosystem. This proposal requests the addition of Ramses FRAX/USDC CL at 0.01% fees to the FXS gauge controller.
Adding the Curve FRAX/USDC.e and frxETH/WETH pools to the FXS gauge controller on Arbitrum is a strategic move by Frax Finance to enhance its liquidity and market presence. Additionally, the FXS gauge's ability to distribute ARB tokens positions it as a vital instrument for Frax Finance to efficiently allocate current and future grant-funded incentives within the ecosystem.
TG Alpha
On Eigenlayer Support for frxETH v2
Iain: Thing is you can integrate an LSD but ultimately you still need to get the eth holder to insure another risk. People who hold lido ETH aren't targeting extra yield so always thought natural restakers would be people like frax eth
Sam Kazemian: Well with frxETH v2, there's going to be natural restaking support. You can kind of think about it like a built-in Eigenlayer inside of the protocol. Because keep in mind, after v2 anyone can run a validator in any way they desire as long as they are paying the market-set interest rate to sfrxETH holders. It's fully permissionless and decentralized. So naturally, restakers will be willing to pay higher interest rates if they are using the v2 protocol.
Why Frax Didn't Vote in the Eigenlayer Contest
Sam Kazemian: It was combined but with duplicates removed and enough people voted on both to disqualify us though it seemed we had qualified. the competition was confusing (all protocols had duplicate votes) and they didn't publish duplicates until after. it's disappointing and I agree an odd way for them to determine roadmap
Also not only that but we weren't going to vote on a non-verified contract with the protocol's own sfrxETH it has on the balance sheet. It doesn't matter what the reason or logic is for jokerace or whoever to not verify the contract, it's just unprofessional overall.
EigenLayer overall is very professional and awesome. Regardless of the specific oddities of this vote and the unverified contracts, I'm excited about their protocol. And Sreeram is a gigabrain undoubtedly. I'm sure they'll eventually add sfrxETH as it is growing faster than others.
Protocol Announcements
Using Account Abstraction Rainmaker does gas-free transactions for swaps and yield farming. They have a lot of great sfrxETH yielding positions that you can enter gaslessly.
DeFi Saver adds crvUSD support for sfrxETH
dsETH Reduces Fees to Zero
Frax on X